Work Experience:
2016 till present: SmartWin Property Sdn. Bhd.
2014 till present: CCNG Chartered Accountants
Education:
2003: Malaysian Institute of Accountants (MIA) membership – No:22065
2003: Certified Practising Accountant (CPA) Australia – No: 9163842
1998: Bachelor of Business (Accounting) – Monash University, Australia
1990-1993: Jit Sin Independent High School
Work Experience:
2014 till present: SmartWin Property Sdn. Bhd.
1998 – 2019: Smart Uniform Manufacturer (Own Business)
Education:
1998: Bachelor of Science (major in Chemistry) (Hons) – University Putra Malaysia (UPM)
Work Experience:
2017 till present: SmartWin Property Sdn. Bhd.
2014 till present: Eastern Trophy & Souvenir Sdn. Bhd. (Own Business)
2005 till present: Eastern Pewter Centre (Own Business)
Education:
1999: SMK Seberang Jaya
RECYCLING HOMES

 FOR THE NEEDY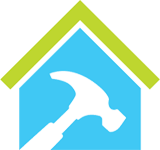 Incorporated on 1st November 2016, SWP's primary business activity is the refurbishment of housing projects.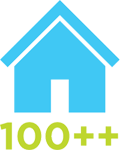 Currently, we are managing more than 100 houses, and the majority of them are single-storey terrace houses located in Sungai Petani, Kedah.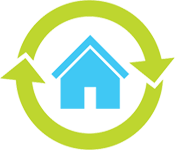 In North Malaysia, this can be considered as the largest 'recycle' housing project. We refurbish the old houses and resell them to those who are in need.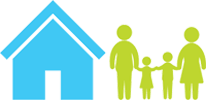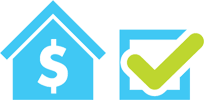 To assist more people, regardless of ethnicity, in securing a home, especially low income earners, with zero upfront deposit.
To help the nation in solving the affordable housing issue by providing good quality, affordable houses in sustainable communities to the needy.
To beautify residential areas and enhance their image by refurbishing old and abandoned houses.
To refurbish worn-out houses and resell them at affordable prices, thus sprucing up the homes and increasing the occupancy rate of older residential areas.
OUR REASONS

FOR REFURBISHING HOMES
Malaysia's population of 32 million is categorised into 3 different income groups: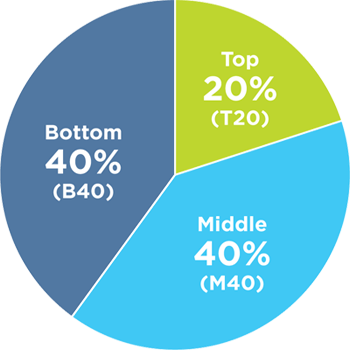 Based on the findings of the Department of Statistics Malaysia (DoSM) in October 2017: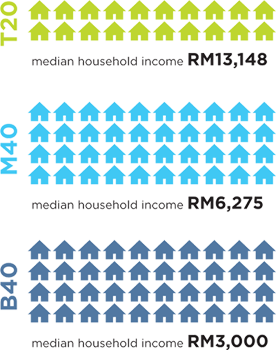 Those who are in the B40 and M40 categories are facing difficulties in securing a home as the escalating cost of living is resulting in inflation and slower wage growth.
As such, the loan amounts that those in the B40 and M40 categories can obtain are much less than the prices of new houses. Consequently, they are struggling to own their own homes.
Houses are acquired below market value due to foreclosure or they were purchased directly from the owner. Each property will be renovated based on a standard structure and resell at an affordable price.
Refurbished single-storey homes of 1,200 sq ft in the Sungai Petani area will be resold within the range of RM110k to RM190k.
The refurbished homes cater specifically to low and middle income earners because the prices of the homes match their financial abilities without incurring additional costs for renovation.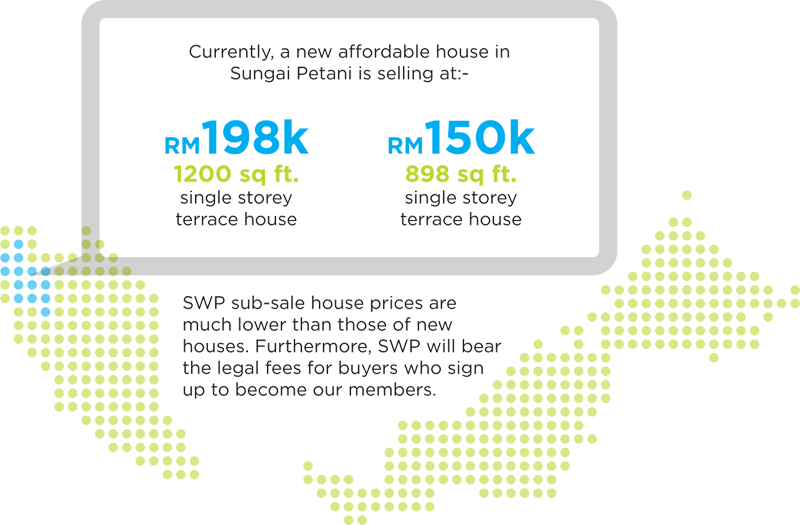 OUR REFURBISHMENT

WORKS ENCOMPASS: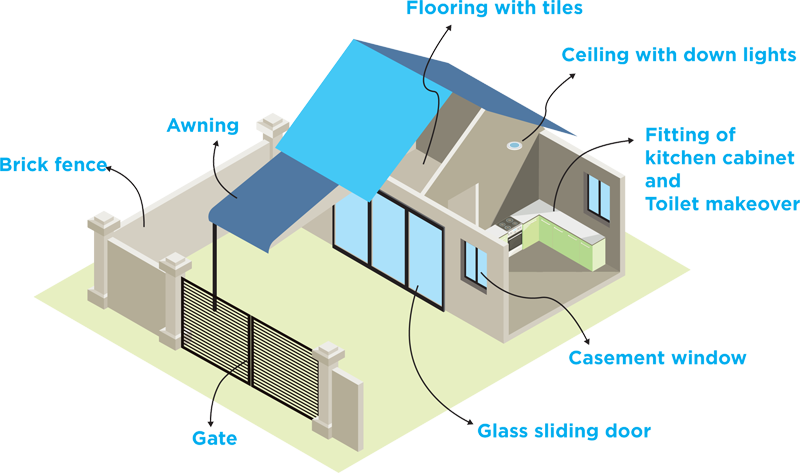 PANEL LAWYERS:
Tan and O.G King
Butterworth, Penang
Syarikat Lim Kiam Hoon
Sungai Petani, Kedah
Hoe and Ahmad Zaki
Sungai Petani, Kedah

PANEL VALUERS:
Jurunilai Bersekutu
Bukit Mertajam, Penang
Henry Butcher
Kulim, Kedah

ADVISORS:
CCNG Sdn. Bhd.
Kulim, Kedah (Accounting)
Perunding RE
Kuala Lumpur

BANKING PARTNERS:
Public Bank
AmBank